HOMETOWN HEROES is a new section that highlights and profiles local LA area-based brands, designers, and or interesting people. Feel free to email suggestions.

I'm sitting on the patio of one of my favorite sandwich shops last week, when a guy walks up and sits at the table opposite. Vintage Levis, white tee under a rolled-neck sweater, and a plaid cap… a little too good for your usual LA lunch crowd. I try to figure out the best approach, but then just go with what any self-respecting blogger would say, "hey man, you mind if I snap your picture?" An uncertain look falls upon his face, but once I assure him I don't have a basement studio with a duct tape-repaired leather sofa, VHS camcorder on a tripod and a floodlight, and that I simply want to take a photo of exemplary style with my phone …he agrees. We get to talking and within a couple minutes, I know I've found something great: Matt Winter or, Mr. Winter to you.

As I sip my black coffee, Matt goes on about how he runs a clothing label and a handmade leather goods business from his backyard shop, his opinions about LA-based clothing lines and why cars get better with age. Whatever he was selling, I was buying. Like the freshman new kid talking to the senior quarterback, dumb smile on my face, hanging on to bits of conversation like, "… 3 hot-rods", "…a couple board track bikes in the back", "…WWII Quonset hut", and, "… 12 second ¼ mile". It's at about this point that I interrupt and tell him to screw the iPhone photo, and that I'm coming to check it all out …maybe move in.

The complete "Day with Mr. Winter" story below the pic.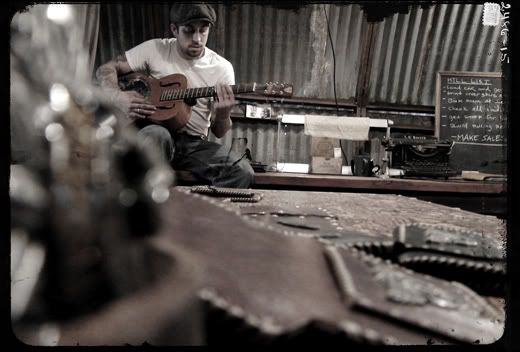 As I pull up to Matt's house a couple days later, his head is buried deep in the inner-workings of his '28 Ford Roadster. All I can see are a pair of Sperry Top-Siders hanging out of the door, and a plaid cap yelling something about the transmission slipping in gear and how he has to be ready for a 4am run to Bakersfield the next morning. Again, what any self-respecting blogger would do… I roll up my sleeves, and pretend to understand when he schools me on the often-confused differences between hot rods and rat rods, and the subtle nuances of the Oldsmobile Rocket V-8.




After he wrenches the tranny into submission and buttons it up (I'm still not sure what was wrong with it) we meander into the backyard of his modest two-bedroom house in Culver City. As we enter through the wide wooden gate, the open garage sparkles like a treasure chest, mesmerizing me with all its vintage perfection. Magazine clippings and covers pinned to the wall, a '32 Francis Barnett motorcycle covered in the corner, the chassis of another Model A perched on street-rod radials and shelves stocked full with every gasket, hose, fitting, piston and belt needed to not only build, but maintain period-correct hot rods. Just outside and next to the garage is a '36 Ford Five Window Coupe in quarter-mile running condition, and behind that, another car body with a number painted on it. At that point, make and model don't much matter to me. Like a kid who wouldn't care to know the ingredients of a bowl of ice cream, I was sold and already neck deep.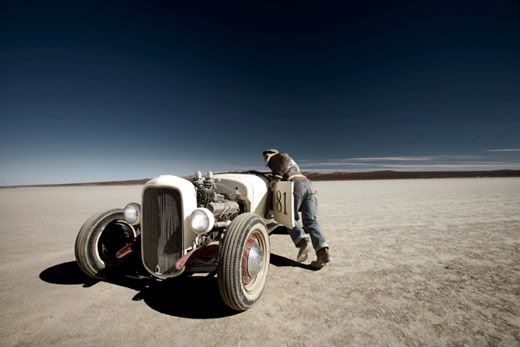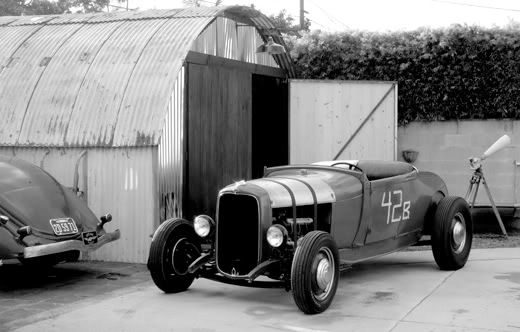 About this moment, my eyes sweep to the corner of the lot, and there it is. I now know what Indy felt when he gazed upon the covenant for the first time… SMITTEN. A WWII military Quonset Hut straight from the sacred grounds of Port Hueneme Naval Base. Matt nonchalantly waves me over to it saying "go ahead, check it out, I'll be right back". As soon as I step in, I'm relieved he hadn't followed, because once my eyes have a chance to skip along the contents, my lungs a chance to breathe in the nearly century-old history, I believe a single solitary tear streams down my cheek, and the last thing I want is Mr. Winter to see a grown man sobbing.




The wood flooring creaks as I step further into the corrugated metal structure. I feel as if I've stepped into a Terrance Malick film. A voice-over about life and loss plays out while my fingertips gently run across 70-year-old wood grains and study the cold metal of depression-era tools. Perhaps the first thing to strike when I enter the hut is the floor. The beautiful hardwood beneath my feet, Matt later tells me, was covered in linoleum and he had to take it apart, nail-by-nail, and flip the boards over. It was only then that he realized he had lucked out and unknowingly revealed the amazing striation pattern in the underside of the flooring. It's those little blessings of luck that seem to grace Matt with their presence on a daily basis. Just the simple fact that Matt acquired the hut because he was driving the 101 and saw it out in a field, flipped a U, and went and asked if he could have it, which he could. Never mind the thing was stuffed with personal affects of a WWII vet including his footlocker with uniforms, photos, letters and supplies. No, these things don't happen to normal people, Mr. Winter. Only you.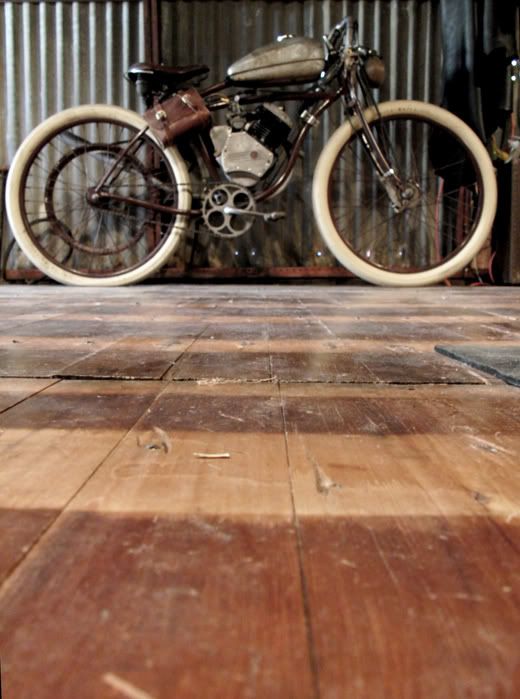 The structure is his office, workshop, and sometimes on long nights with deadlines looming, his bedroom. The space is what others might call a museum, a shrine, Graceland. It's is the epicenter of Mr. Winter, the brand name under which Matt operates. No piece of furniture is out of place, all fixtures are period correct. In fact, the only hint that I hadn't just stepped into a black hole and fallen back 70 years was a 32" Mac display, but even that had a vintage American Flag draped over it. Where one's office would normally have shelves or filing cabinets lining a wall, Matt has two '41 Whizzer Board Track bikes. Where one might have a space heater, Matt has a wood burning cast-iron stove, a Herman-Miller Aeron chair – a solid oak church folding chair, and so on.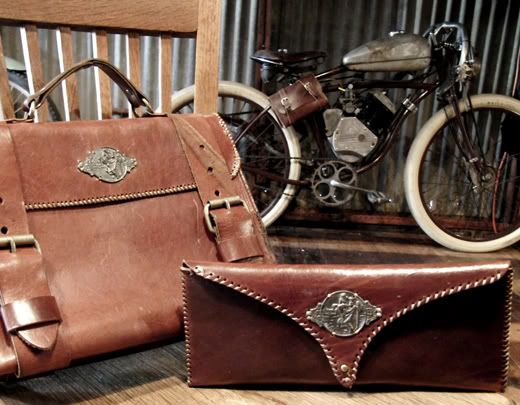 At the far end of the hut is his workbench, one he shares with his brother and business partner, Daniel, who was out of town, no doubt peddling their goods. "It's 50%. We both make the pieces, we both sweat for it." And that about sums up their partnership. Mr.Winter manufactures fine handmade leather goods, each made right here were we stand, and a casual women's line, produced solely in Los Angeles and inspired by 40's work wear. Matt explains that the clothing is somewhat a means to an end, a way to finance what he and his brother love to do and their passion of working with their hands. As he talks me through the pieces in the line and brings the subtle details to my attention, he tells me stories about his dad sailing Peter Fonda's boat around the world, and how his Roadster wobbles a little at 130mph.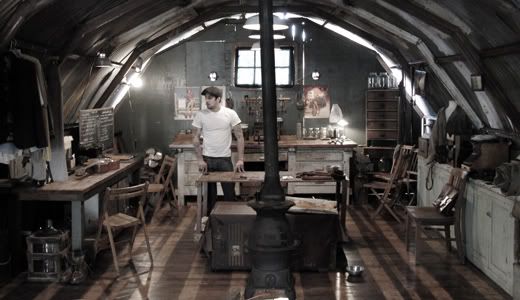 Matt and his brother are third generation self-described "garmentos", whose roots are heavily planted in 40's menswear. His Grandfather started LANCER OF CALIFORNIA, a men's dress and sport shirt company, in 1941. Matt's dad took it over in'65 and it continued to produce fine menswear until '91. With a pedigree like that, it's safe to say that Mr Winter's destiny seemed to be written far before he was punching holes in leather and busting knuckles on V-8s.

Mr. Winter's leather goods line is nothing short of captivating to look at, hold, smell, and enjoy the small imperfections only possible in a completely handmade product. Matt and his brother cut, dye, stitch and assemble the pieces from raw hides of South American Latigo leather. It's the process that draws the brothers to the leather line. The passion is in the creation, not so much the final piece.




"I think, that would be cool to do this or that, then I can actually go in my backyard and make the piece, start to finish. It's more satisfying to do the leather works than say a piece of outerwear, which has to start with a flat drawing and get sent away to downtown LA for production."

Oftentimes, metal WWI-WWII St. Christopher medallions and various other religious pendants spanning every major religion adorn the patina-finished wallets, document cases, belts and briefcases. The use of medallions and pendants come straight from Matt's parents. His Dad started producing handmade leather goods a few years ago and subsequently taught the skill to his sons. Matt's mom had the idea to utilize her extensive collection of metal pendants in the line, thus the aesthetic was born. The history of the medallions adds to the lure and romanticism of the line. As if the wallet or case slipped from the grasps of a WWII soldier in '44 and straight into the hands of Mr. Winter. The pieces tell stories far beyond their years and entice you to pick them up, and be a part of it.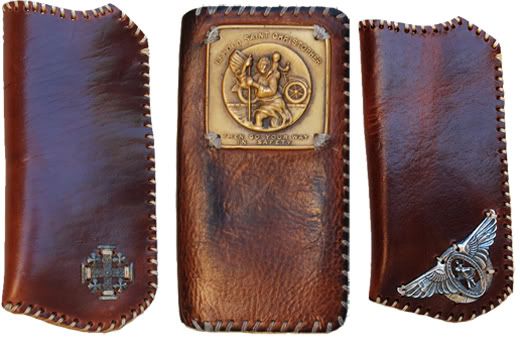 Mr. Winter is carried in select boutiques across the country, but it's the online sales that drive the business. If you buy from a store you pick from the selection but, online, the possibilities are seriously endless. Each piece is handmade and can be custom-tailored to the individual based on needs, wants, hopes, or in some cases, dreams.

After we exhausted every nook and cranny of the office and garage, I get the photos I need, and see all the antiques and vintage knick-knacks, it's time to head to In-N-Out for a late lunch. Roaring down Venice Blvd. at 60 mph in a roadster with no windshield, Matt and I talk, or yell, about girlfriends, good food, WWII flight jackets, and life in general. Two double-doubles later, Matt drops me back off at my car, and I go home satisfied, knowing that I not only learned a thing or two about hot rods and the necessity of idealism being at the heart of a 24-year-old go-getter, but also because I happened to be drinking coffee at the right place at the right time, I made a new friend.

Cheers Mr. Winter.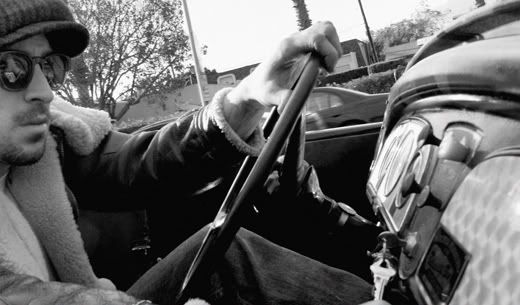 For some more information and details, and to order you up some fine pieces of craftsmanship, check out:
MR. WINTER'S WEBSITE