Living in LA comes with a necessity for sunglasses 364 days out of the year, and I'm happy to oblige. Almost too much so, as my collection has grown to border on the ridiculous. I've only dipped into the vintage eyewear sea a couple of times. I'm scared to get too deep because knowing me, it would be a slippery slope to the bottom of debt and torn relationships due to lost nights on eBay. That was, of course, until I was led to the the promised land - SILVER LINING OPTICIANS, on Thompson St. in NYC.

It was there I discovered the only reason I had not fallen in love with vintage sunglasses before was because I had never seen the right ones, and SL has the right ones. Drawers and drawers of them, in fact. I'm a Persol man, and these boys had me all kinds of covered. Dead stock 649s, tortoise, aviators galore and the most insane pair of 40 year old, white Persols that were, lucky for my bank account, part of the owner's private stash. Erik Sacher and Jordan Silver know the numbers of the styles and the colors they came in. They can tell you what year and for how long production ran, and probably track them down for you. I don't know about you, but I'll go ahead and trust a man with a Persol tattoo when it comes to dropping knowledge on the display cabinet.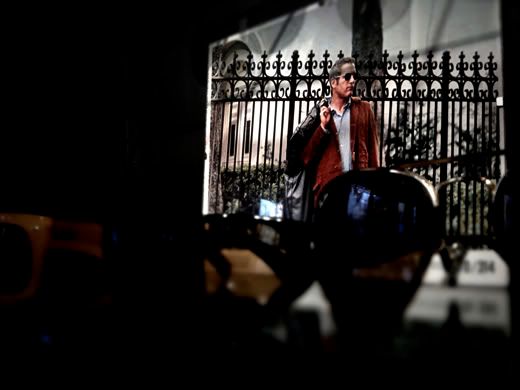 The prices are nothing to shrug at, but competitive when it comes to pristine, dead-stock, 30-40 year old sunglasses. The Ray-Ban collection alone is enough to have you thinking dirty thoughts of second mortgages, but throw the rest of the Persols and Porsche Carreras in the mix and you'll seriously be considering black market sales of first-borns. The only reason I didn't leave with a pair of glasses was the guilt I'd have to fake to loved ones when they learned Christmas will be cancelled this year due to my late 1960's 714s in honey tortoise.