Today is military watch strap day. Not expecting a lot of comments here, but we'll see. First up is Jürgen. You pick from their list of vintage military pieces, holsters, flight jackets, belts, etc, then send them ALL the measurements and style band you desire. About $100.00 later, you get a completely custom made military watch strap. It's hard for me to see great pieces of vintage get sliced and diced, but if they are to be reborn into amazing watch straps... so be it. Not like I'm really using my collection of WWII Russian holsters.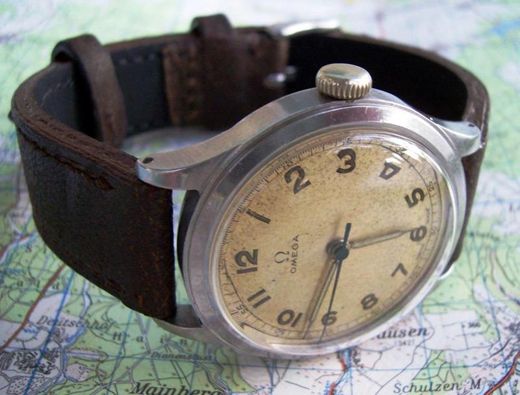 Photo of 1945 Omega "US Army" watch and custom strap by R. Rooney.



From their ad on MWR:
Chose your vintage leather strap material from our vintage pistol holsters, military belts or military jackets. We only use the outer skin for the straps the anti stretch sheets and new leather for the different inner sheets will be new and manufactured according the EU and German Specifications for watch straps. All our straps are hand made in Germany by Jürgen's Hand made in Germany (S-PARTS) from workers with more then 50 years of experiences with watch straps and leather goods
All sizes and custom work is possible but need a calculation may be so ask for the price first when you want to have something special.